As you work your way up from 5ks and fun runs into longer races, finding routes that are engaging and fun can end up being more challenging than the run itself. But don't worry. We've collected some the best on-road and off-road runs in Knoxville, so all you have to think about is improving your splits. The runs we've listed are typically between 7 and 12 miles long, but they are all easily shortened or lengthened to match your personal goals. Get ready to explore wooded paths, hunting trails, and urban greenways with our list of the best long runs in Knoxville.
1. CHEROKEE BOULEVARD/THIRD CREEK GREENWAY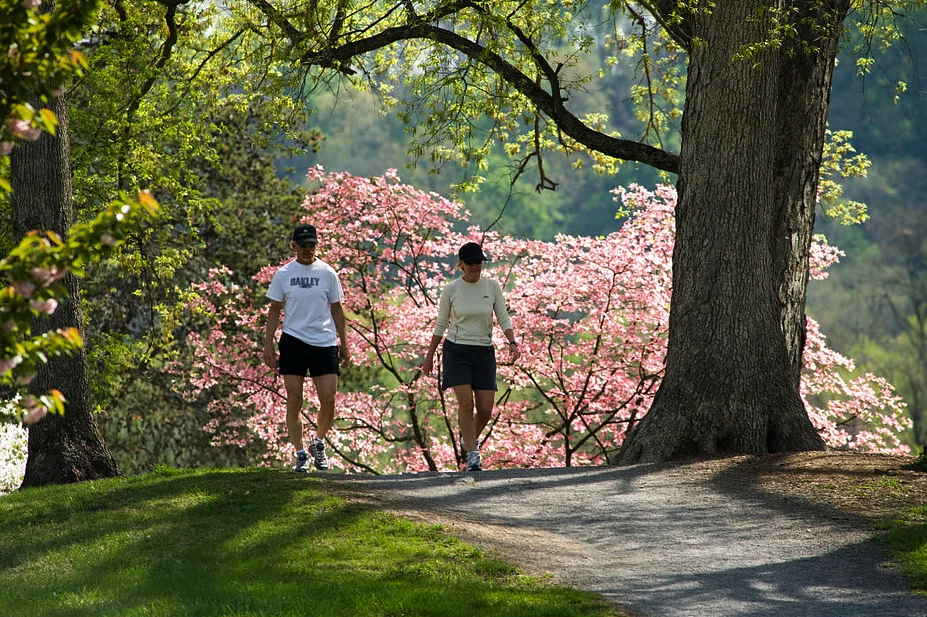 "The Boulevard" that runs along the edge of Sequoyah Hills Park is dearly loved locally for its beautiful surroundings, low-impact crushed gravel, and convenient access. Though the boulevard trail itself is only about 5 miles out-and-back, its connection to the Third Creek Greenway near Kingston Pike allows runners to extend their excursion west toward Bearden or east to downtown. If you choose the latter, be sure to include a jog through the University of Tennessee's botanical gardens.
2. THE SOUTH LOOP
Terrain: Dirt trail
Features: Riverside views, transportive singletrack trails, and a sampling of Knoxville's vast Urban Wilderness.
Set amid the coves and copses of Knoxville's Urban Wilderness, the South Loop (known as 'the Dirty South Loop" by some) is the most immersive trail run you're likely to find this side of the Smokies. This idyllic urban escape circles though William Hastie Natural Area, Forks of the River, Ross Marble Quarry, and Marie Myers Park, forming the outer boundary of Knoxville's biggest network of trails (42 miles and still growing!), so you can always branch off and explore other sections or add in an extra hill or mini-loop to increase mileage. A full map of the Urban Wilderness is available here. You can also download the cool mobile map app for tracking your route on the go.
3. FORKS OF THE RIVER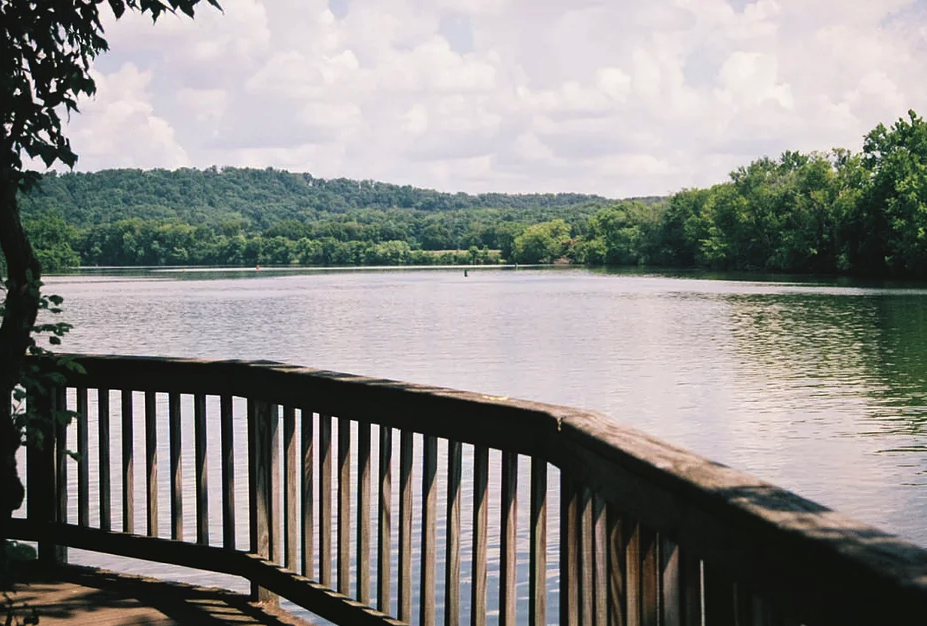 Terrain: Dirt trail, paved greenway, gravel
Features: Summer wildflower display, waterside views, terrain diversity, bathrooms (if you start at Ijams Nature Center )
When you're ready to dig a little deeper into the Urban Wilderness, Fork of the River is a great place to start. Incorporating sections of the Will Skelton Greenway, runners can start and finish their run with gentle paved sections. In between those paves sections, you'll run through large fields, among grassy knolls, and past the scenic French Broad River. If you're running in July, your sweaty exertion will be rewarded by a spectacular sunflower display along the "Wyatt Way" section of the trail near McClure Lane.
We mapped out a pretty solid route for exploring Forks of the River here, but we suggest you keep a few things in mind:
• If you choose to run along the small section of Burnett Creek Road that connects the far ends of the FotR trails, be cautious. Hiker crossing signs have been posted, but the road remains narrow and winding with very little shoulder.
• Forks is open to hunters and is sometimes (though rarely) closed to hikers, runners, bikers, and anyone without a hunting permit. Check the signs posted at trailheads or the TWRA website more info.
• If you decide to run in the morning, be prepared for webs, webs, webs. If you don't fancy being caked in sinewy spider string, bring along a friend and offer to let them take the lead—human web remover.
4. HAW RIDGE
Terrain: Dirt trail (mostly)
Features: Beautiful waterside views, steep inclines, rolling hills
Though most popular among mountain bikers, the diverse trails at Haw Ridge aren't restricted to fat tires and thumb shifters. The 30 miles of trail here offer a great run, no matter what level of difficulty you're looking for. Super-solid rooted singletracks with taxing climbs form the interior of Haw Ridge and descend outward to moderate trails along the Clinch River.
Tackle hard climbs like the "Hill of Truth," or build up your mileage on the outer circuit. No matter your choice, we promise you stellar singletrack and a great time. To add some extra paved miles, hop onto the Melton Hill Greenway near the entrance of the park.
5. IC KING PARK
Terrain: Dirt (very often mud!) trail
Highlights: Views of the Flenniken Branch, tough climbs
Another mountain biker mainstay that is also great for trail runners is IC King Park. With terrain options somewhat similar to Haw Ridge, IC King offers calmer shoreline runs along the Flenniken Branch of the Tennessee River as well as a higher elevation trails like Kimble's Ladder for a more speedy and technical experience. Run all the current trails for a total of about 8 miles.
6. NORRIS DAM STATE PARK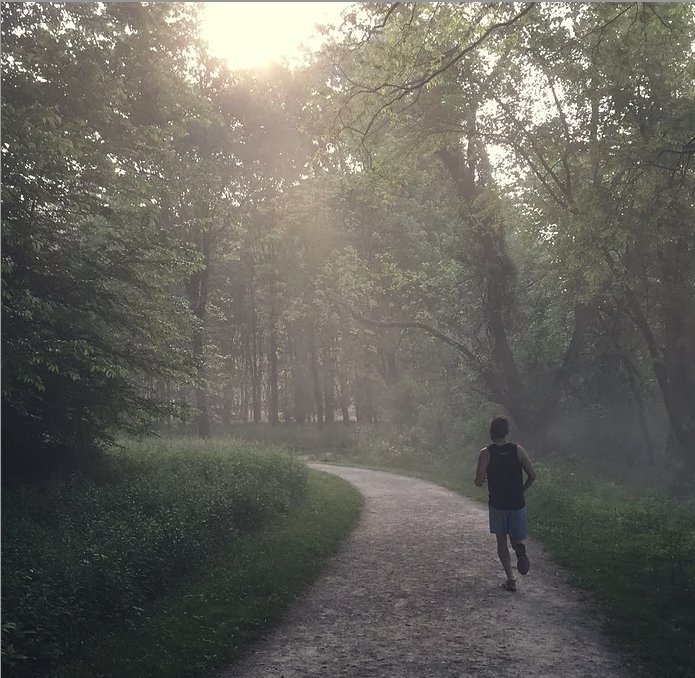 Terrain: Dirt trail, paved and crushed gravel (on Songbird Trail)
Highlights: Bathrooms, views of the lake, secluded
Only half an hour up I-75 is a great lakeside network of trails perfect for runners looking for a steep burn of a run with lovely views. The Lakeside Loop Trail, Lake View Trail, and Highpoint Trail in the northeastern part of the park (seen here) can be combined for about 10 miles of steep trail running, while the popular Marine Railway Loop just northwest of the map's midpoint is 4.3 miles. If you're looking to track some flatter miles, the 2-mile Songbird Loop below the dam offers an easy mix of paved and crushed gravel trail for endless circuits next to Clinch River.
7. DOWNTOWN RUN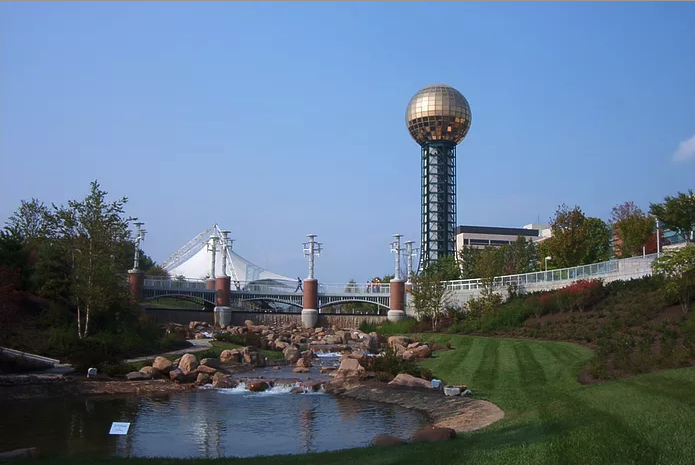 Terrain: Paved
Features: River views, urban exploration, downtown parks and landmarks
A list of Knoxville runs wouldn't be complete without a tour along the city's downtown greenways and city streets. You can run along the waterfront, relax on the swings near Calhoun's, take the Second Creek Greenway up to World's Fair Park, cut across to Market Square, and even run across the Gay Street Bridge to see the Tennessee River from above. We've mapped out a solid route here, but the possibilities are endless.When you've clocked your miles on these routes and are ready to put your long distance dexterity to the test, The Knoxville Track Club hosts a ton of races year round with a variety of terrains, distances, and fun locations. Find your next race now on the KTC website.