With the heat of summer quickly approaching, everyone is looking for ways to be near water. Luckily, Northeast Tennessee is abounding with beautiful rivers and streams, many of which flow into spectacular waterfalls of all shapes and sizes, from surging cascades to plunging showers. Whether you're in the mood for an all-day trek, or a short hike, you can experience spectacular falls throughout Northeast Tennessee. To get you started on your journey, we've highlighted 10 of our favorite waterfalls in the region.

Jones Falls
This 100-foot waterfall is situated between Roan Mountain, Tennessee, and Elk Park, North Carolina, and has a couple of different access points. A popular approach is to begin at the Elk River Falls parking area and hike up to the Appalachian Trail, from which you'll take a short spur trail to reach the falls. When you reach Jones Falls you'll see that the top section free-falls, while the lower portion tumbles into rushing cascades. The estimated length for this hike is about 7 miles round-trip, with the approach hike taking a bit longer due to substantial elevation gain. 
Buckeye Falls
This massive cascade is perhaps one of the most mysterious and elusive falls in the Southeast. Located a few minutes outside of Erwin in Clarks Creek Recreation Area, Buckeye Falls is often called the highest waterfall east of the Mississippi, with height estimates ranging from 475 to 700 feet. Though the hike to the falls isn't terribly long at 3.5 miles, its remoteness means that this journey is not for the faint of heart. The first couple of miles of trail follow a path used by horses, but when this section ends, hikers must follow the faint, sometimes disappearing trail that meanders near—and often through—Clarks Creek. Many people attempt this hike and turn back without making it to the falls, but one thing's for sure: those who do find Buckeye Falls are in for a true wilderness experience. 
Coon Den Falls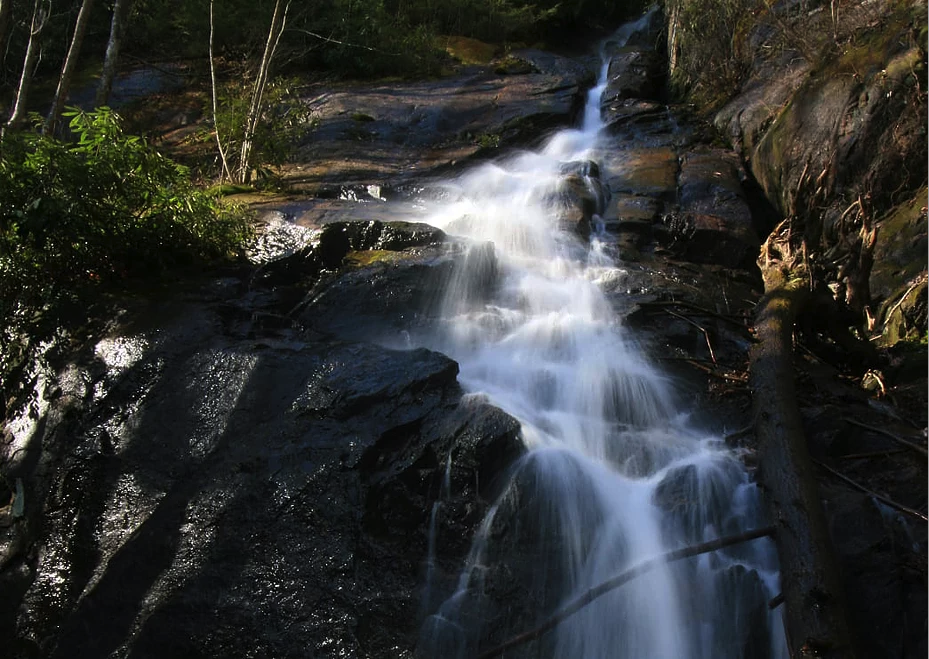 There are a couple of ways to arrive at Coon Den Falls, but we prefer the 4-mile loop along the Appalachian Trail for its scenery and moderate elevation change. The glistening 50-foot waterfall is tucked away in the Roan Mountain region of Northeast Tennessee, which is known in spring for its blooms of rhododendron and a wide variety of wildflowers, including trillium. During dry seasons, Coon Den Falls slows almost to a trickle, so it's best to experience it during rainy weather or right after. While the trailhead on Dennis Cove Road is easy to find and access, this waterfall's densely forested surroundings make it feel surprisingly remote. 
Elrod Falls
Elrod Falls offers a huge payoff for a tiny hike. Located just 10 minutes outside of Sneedville, the waterfall can be accessed at the end of a gravel road off of state Route 31 between Sneedville and Mooresburg. There's a picnic area at the trailhead, and a 0.1-mile path will lead you down to the cascading waterfall and its two charming swimming holes. It's also possible to catch sight of another cascade above the main falls, but the ascent can be slippery and somewhat dangerous. 
Gentry Creek Falls
Get ready to get your feet wet on the way to Gentry Creek Falls in Cherokee National Forest. While this trail doesn't have much elevation change, it's rocky and has no fewer than 15 creek crossings along the way. The 4.5-mile out-and-back hike follows Gentry Creek and weaves through rhododendron on the way to the 60-foot falls. This impressive, two-tiered waterfall is located near Mountain City, and sits almost on the borders of Tennessee, North Carolina and Virginia. 
Laurel Falls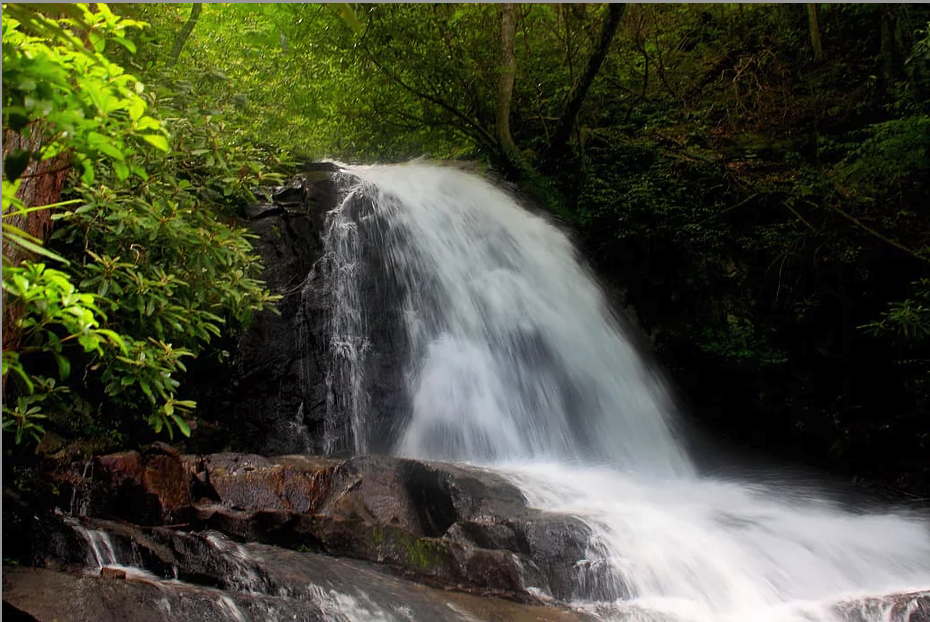 Perhaps one of the most popular waterfall hikes in Northeast Tennessee is the walk to Laurel Falls, which you can access via a 1.2-mile trail off of Dennis Cove Road near Hampton. The majority of the trail is relatively flat and easy, as it follows an old railroad bed that runs alongside Laurel Fork, while the last section of trail is a very long series of stone steps leading to the base of the falls. The area around the waterfall is perfect for a picnic and a good cool down before the tough climb back out. 
Lower Higgins Falls
For a less-traveled waterfall experience, make your way to Erwin to visit Lower Higgins Falls. While relatively few people know about this waterfall, there's certainly nothing little about it. The main section of the falls flows 100 feet, and you can continue on and explore several smaller falls farther up the trail. To reach Lower Higgins Falls, follow Lower Higgins Creek Road until it dead ends at the trailhead in Cherokee National Forest. You'll walk about 1 mile along Lower Higgins Creek, with a bit of steep hiking near the end, to reach the main falls. 
Margarette Falls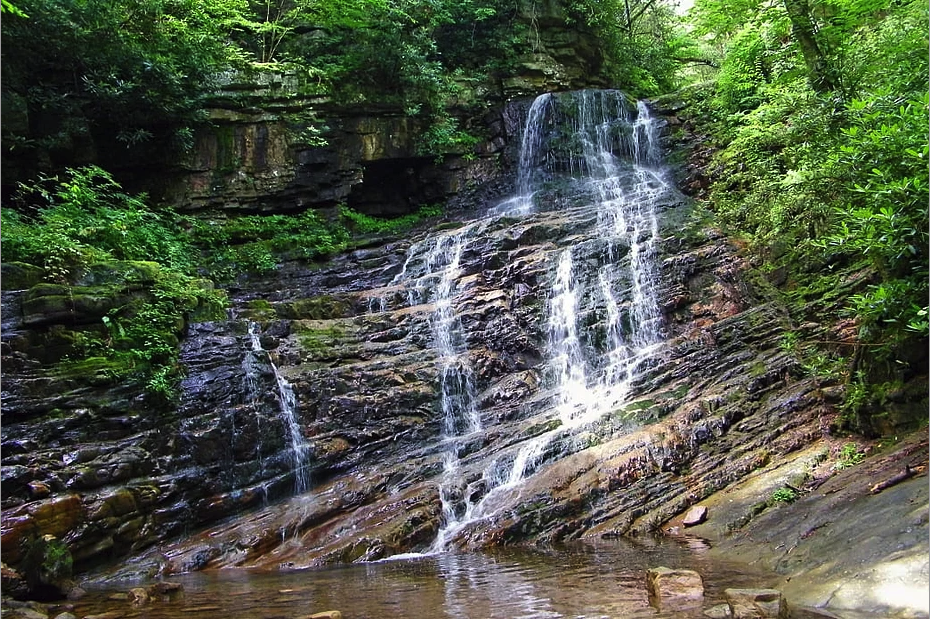 Another of Northeast Tennessee's most popular waterfalls is Margarette Falls near Greeneville. This trail is just under 3 miles round-trip, and it's a gorgeous spot to see spring wildflowers and interesting rock features. The first half of the trail follows a gravel road, and the second half becomes a dirt path, with a lovely creek in sight for most of the hike. Along the way, you'll catch glimpses of several smaller waterfalls before reaching the main viewpoint for Margarette Falls, which is known to some as Marguerite Falls. The walk to this 60-foot waterfall is exceptionally scenic and a perfect hike for the whole family.
 Sill Branch Falls
Just outside of Erwin in the Clarks Creek area, Sill Branch Falls is a local favorite for its stunning rock features and fairly easy access. The 3.6-mile out-and-back hike offers lovely streamside walking with a gradual incline. At the fork in the trail, the left path will take you directly to a gorgeous view of the falls, while the right affords a much more strenuous approach. 
Cumberland Gap Wilderness Trail Waterfall
Located in the Town of Cumberland Gap inside the Cumberland Gap National Historical Park, the Wilderness Road Trail contains the original trail marked by Daniel Boone in 1775. It also leads to two of the park's main attractions, Gap Creek Waterfall and Iron Furnace. An easy 1.4-mile out-and-bike hike brings you alongside a stretch of Gap Creek where a waterfall spills over the trail and rushes beneath a bridge to create a great scene for photos. On the hike you also encounter Iron Furnace, where a 30-foot stone tower marks the location of a charcoal blast furnace that was used to smelt iron in the 1800s.
For more information on waterfalls in Tennessee contact us at Little River Trading Co by following the link below.